Karistend Behrisfahr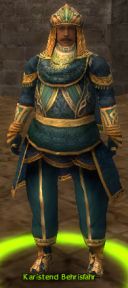 Classification
General
Karistend Behrisfahr is one of the Vabbians found wandering the Forum Highlands.
Location
Dialogue
"There's an old myth in Cantha that if you give coins to a beggar, he might turn you into a beautiful princess and ride off with you into the sunset. Trust me on this one... the morning after is really unpleasant for everyone involved."
Quotes
"I'm not afraid of the Order of Whispers. (I hope nobody heard that.)"
"The people of Vabbi find themselves superior in all ways. I can't argue with them... but don't tell anyone I was born in Kryta. They wouldn't understand."
Ad blocker interference detected!
Wikia is a free-to-use site that makes money from advertising. We have a modified experience for viewers using ad blockers

Wikia is not accessible if you've made further modifications. Remove the custom ad blocker rule(s) and the page will load as expected.