Ad blocker interference detected!
Wikia is a free-to-use site that makes money from advertising. We have a modified experience for viewers using ad blockers

Wikia is not accessible if you've made further modifications. Remove the custom ad blocker rule(s) and the page will load as expected.
Kapunk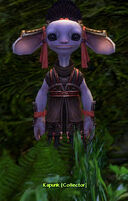 Classification
Dialogue
"Well, hey there. You're tall...very tall indeed. What do you say we make a deal? There are some odd creatures out in those... what did you call them? Trees? Right, and I want to study them. If you bring me 5 Incubus wings for my research, I'll give up this bright, shiny:"
Collector Items
Kapunk
Location: Arbor Bay, midway between the portals to Riven Earth and Alcazia Tangle.
Collecting: 5 Incubus Wings