Kaplack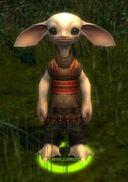 Classification
Map(s)


(click to enlarge)
Dialogue
"The frogmen are always ruining my shipments. I'm a trader of all things magic, but those amphibious fiends are going to put me out of business! I tell you what, if you get me 5 Amphibian Tongues, that'll keep them from wagging their tongues over my goods! In return, it'd be my duty to reward you with:"
Collector Items
Kaplack
Location: Magus Stones, outside the south exit of Rata Sum
Collecting: 5 Amphibian Tongues
Ad blocker interference detected!
Wikia is a free-to-use site that makes money from advertising. We have a modified experience for viewers using ad blockers

Wikia is not accessible if you've made further modifications. Remove the custom ad blocker rule(s) and the page will load as expected.