Kanyama

Classification
General
Kanyama is a farmer in Issnur Isles having some trouble with flamingoes. He can be found somewhat southeast of Beknur Harbor.
Quests Given
Location
Dialogue
"Kanyama is my name. I enjoy the simple life of farming, the feeling of dirt running through my fingers. Though the corsairs make my existence difficult at times, I feel safe in the shadow of the valiant Sunspears."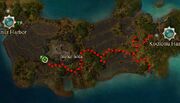 Ad blocker interference detected!
Wikia is a free-to-use site that makes money from advertising. We have a modified experience for viewers using ad blockers

Wikia is not accessible if you've made further modifications. Remove the custom ad blocker rule(s) and the page will load as expected.