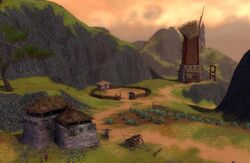 Basic Info
Neighbor(s)
None
Map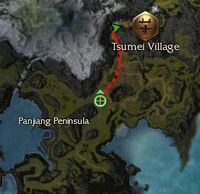 (click to enlarge)
Description
Kaitan Village is a rural settlement in eastern Panjiang Peninsula where sunflowers, grapes and field crop are grown. To reach it, exit west from Tsumei Village and head south a few steps.
NPCs
Liu Gong (Weaponsmith, buys items)
a few Canthan Children
a few Canthan Guards
a few Canthan Peasants
Quests
The following quests takes place in Kaitan Village:
Ad blocker interference detected!
Wikia is a free-to-use site that makes money from advertising. We have a modified experience for viewers using ad blockers

Wikia is not accessible if you've made further modifications. Remove the custom ad blocker rule(s) and the page will load as expected.