Kahturin Hovohden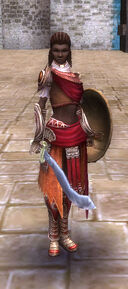 Classification
General
Kahturin Hovohden can be found right outside the exit of Dzagonur Bastion.
Location
Dialogue
Quotes
"I can't believe that wall broke again. Can't they ever build it right the first time?"
"I used to worry about every nick on my sword. Then one day, poof! We all got new gear."