Kahlin Idehjir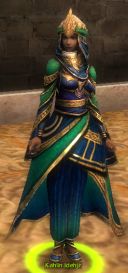 Classification
General
Kahlin Idehjir is one of the Vabbians found wandering the Forum Highlands.
Location
Dialogue
"I just don't see the purpose of having money except to spend it! Some say it doesn't grow on trees. But really, if monsters in the middle of the desert can amass enough gold to buy a pair of expensive shoes... then so can I."
Quotes
"At half price, it's a bargain! At this price, I'll need to get more bags!"
"I always get what he'll pay for."
Ad blocker interference detected!
Wikia is a free-to-use site that makes money from advertising. We have a modified experience for viewers using ad blockers

Wikia is not accessible if you've made further modifications. Remove the custom ad blocker rule(s) and the page will load as expected.