Kah Xan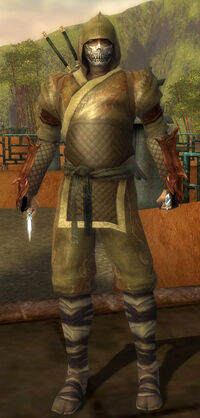 Classification
Description
Kah Xan is the Assassin henchman available in Guild Halls.
Location
Dialogue
Our master taught Fuu Rin and me the following rules when we first became his students: Be still in the dark, lest your prey discover you. No mercy for the weak, for they will drag you down with them. Be swift or be dead; a slow assassin is worth less than a dead one.
I offer the following skills to your service:
Skills used
Evaluation
Trivia
---
Ad blocker interference detected!
Wikia is a free-to-use site that makes money from advertising. We have a modified experience for viewers using ad blockers

Wikia is not accessible if you've made further modifications. Remove the custom ad blocker rule(s) and the page will load as expected.