Jwup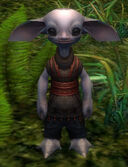 Classification
Dialogue
"Tengu, bah! They squawk like birds...distracting my research! I have been offering some of my trade to any who want to help silence them. If you return with 5 Quetzal Crests, I will be impressed enough to give you this:"
Collector Items
Jwup
Location: Alcazia Tangle, just outside of Tarnished Haven
Collecting: 5 Quetzal Crests
Ad blocker interference detected!
Wikia is a free-to-use site that makes money from advertising. We have a modified experience for viewers using ad blockers

Wikia is not accessible if you've made further modifications. Remove the custom ad blocker rule(s) and the page will load as expected.