Ad blocker interference detected!
Wikia is a free-to-use site that makes money from advertising. We have a modified experience for viewers using ad blockers

Wikia is not accessible if you've made further modifications. Remove the custom ad blocker rule(s) and the page will load as expected.
Jwup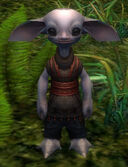 Classification
Dialogue
"Tengu, bah! They squawk like birds...distracting my research! I have been offering some of my trade to any who want to help silence them. If you return with 5 Quetzal Crests, I will be impressed enough to give you this:"
Collector Items
Jwup
Location: Alcazia Tangle, just outside of Tarnished Haven
Collecting: 5 Quetzal Crests