Justiciar Toriimo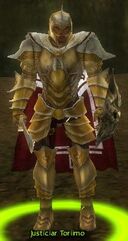 Classification
Map(s)


Location
General
Justiciar Toriimo is a White Mantle Justiciar guarding the gates of Lion's Arch. He's serves directly under Justiciar Hablion. Unable to let the player enter the city, he redirects them to Hablion to help deal with the undead plague.
Location
Dialogue
"I understand your plight, but I can't let you in."
"The only way you're getting through this gate is if he (Hablion) lets you through."
Ad blocker interference detected!
Wikia is a free-to-use site that makes money from advertising. We have a modified experience for viewers using ad blockers

Wikia is not accessible if you've made further modifications. Remove the custom ad blocker rule(s) and the page will load as expected.