Junsu
Classification
Dialogue
"Oh please, please... can you help me out? I made a bet with some friends about who could find the most impressive shell. Well, finding an enormous shell would be impressive, right? I figure nothing is bigger than a Bonesnap Turtle! The problem is, I cannot seem to find one. If you were to find 2 Bonesnap Shells, I would give you this in return:"
Collector Items
Junsu
Location: In Haiju Lagoon, to the west of the lagoon.
Collecting: 2 Bonesnap Shells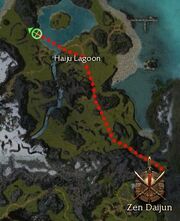 Trivia
The "friends" she mentions are fellow Shing Jea collectors Hai Lae, Losai Hapatu, and Xi Gai.
Ad blocker interference detected!
Wikia is a free-to-use site that makes money from advertising. We have a modified experience for viewers using ad blockers

Wikia is not accessible if you've made further modifications. Remove the custom ad blocker rule(s) and the page will load as expected.