Jun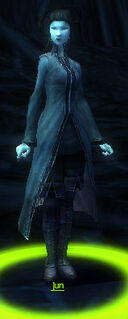 Classification
General
Jun is a talented artist. She is the youngest sister of Kisai.
Quests Given
Location
Dialogue
"You are a friend of Kisai? It is a great pleasure to meet you! I know my sister has trouble with confidence, but I am certain that studying with Master Togo will be good for her. What brings you here?"
Notes
Ad blocker interference detected!
Wikia is a free-to-use site that makes money from advertising. We have a modified experience for viewers using ad blockers

Wikia is not accessible if you've made further modifications. Remove the custom ad blocker rule(s) and the page will load as expected.