Joyous Soul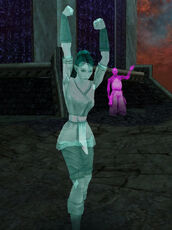 Classification
General
The Joyous Souls appear in the Throne Of Secrets following your party's completion of the Abaddon's Gate. The souls can be found in both light blue and purple hues and with many different appearances.
Location
Dialogue
"With Abaddon gone, my spirit can finally be at peace."
Quotes
"You are a true hero!"
"You defeated Abaddon!"
"You stopped Nightfall! You saved us all!"
Ad blocker interference detected!
Wikia is a free-to-use site that makes money from advertising. We have a modified experience for viewers using ad blockers

Wikia is not accessible if you've made further modifications. Remove the custom ad blocker rule(s) and the page will load as expected.