JonoYawpyawl

Classification
Map(s)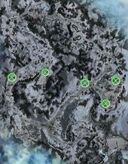 Possible spawn locations
in Spearhead Peak

Possible spawn locations
in Talus Chute
Description
Jono Yawpyawl is a Grawl boss found in the Southern Shiverpeaks. One solitary Grawl deep in the mountains, among hordes of Stone Summit, Siege Ice Golems and Ice Imps this guy doesn't pose very much of a threat. In Talus Chute he is found with a few groups of Grawl and Grawl Crones.
Location
Skills used
Items dropped
Ad blocker interference detected!
Wikia is a free-to-use site that makes money from advertising. We have a modified experience for viewers using ad blockers

Wikia is not accessible if you've made further modifications. Remove the custom ad blocker rule(s) and the page will load as expected.