Jonathan Blunt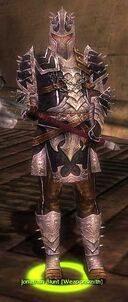 Classification
General
Jonathan Blunt is an Ebon Vanguard weaponsmith in the Eye of the North outpost.
You need to have reached the rank of Mysterious Agent to get his service.
Also, for a fee of 10 gold he can customize a weapon for you. This will increase its damage by 20%, but means that no character other than the one it is customized for can use that weapon (except, of course, your heroes).
Note that the "vs. Charr" is an inherent and unchangeable property of the items he crafts, i.e. you can not use the respective modification in any other way. To illustrate, if you get a Charrslayer Fire Staff, you can add a staff head and an inscription, but you cannot add a wrapping or replace the inherent "vs. Charr" one.
Location
Weapons offered
Ad blocker interference detected!
Wikia is a free-to-use site that makes money from advertising. We have a modified experience for viewers using ad blockers

Wikia is not accessible if you've made further modifications. Remove the custom ad blocker rule(s) and the page will load as expected.