Joduk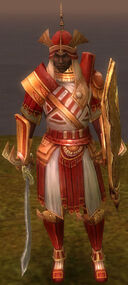 Classification
General
Quests involved in
Location
Dialogue
"I am but a humble servant of the gods. If I have done great things in my life, all the credit should go to Balthazar. Certainly, there are tales sung and spoken of daring deeds, but I only ask to be treated as a man; a man in search of a more leisurely life. I now search for toys to entertain me."
Notes
This quest is only available to your characters as a result of entering the code contained in the November issue of PCGamer Magazine. This quest is required in order to receive the limited edition minipet.
Ad blocker interference detected!
Wikia is a free-to-use site that makes money from advertising. We have a modified experience for viewers using ad blockers

Wikia is not accessible if you've made further modifications. Remove the custom ad blocker rule(s) and the page will load as expected.