Jiorij Wahlahz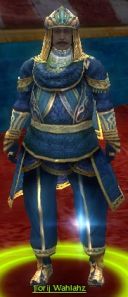 Classification
General
Jiorij Wahlahz is one of the Vabbians found enjoying the Garden of Seborhin.
Location
Dialogue
"Don't listen to the words that others tell you. Listen to your heart. That's where truth lies. Well, either there or in my grandfather Nohimbe's shoe. But I think he was kidding about that."
Quotes
"Not everything in the world is about killing monsters and getting treasure."
Trivia
It's possible that this NPC is a reference to George Wallace.
Ad blocker interference detected!
Wikia is a free-to-use site that makes money from advertising. We have a modified experience for viewers using ad blockers

Wikia is not accessible if you've made further modifications. Remove the custom ad blocker rule(s) and the page will load as expected.