Jidun
Classification
Dialogue
"Come here, faithful Sunspear. Listen to me well, and tell no one I spoke to you. I have ill tidings. A woman named Paljab is attempting to create a potion that will control Elder Suhl. I know this because I caught Paljab gathering ingredients for a powerful mind-control elixir. This is serious. Bring me some Djinn essence, and I will block Paljab's power... and reward you well. Retrieve for me 1 Water Djinn Essence in return for:"
Collector Items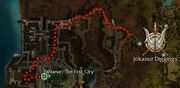 Jidun
Location: Fahranur, The First City, almost in its center
Collecting: 1 Water Djinn Essence
Ad blocker interference detected!
Wikia is a free-to-use site that makes money from advertising. We have a modified experience for viewers using ad blockers

Wikia is not accessible if you've made further modifications. Remove the custom ad blocker rule(s) and the page will load as expected.