Description
The blade is a piece of metal with a golden curved point. It is sandwiched between two rounded pieces for a handle, giving each dagger a slightly conical shape. At the pommel of the dagger is a greenish blue jewel.
Location
Nightfall campaign
Dye
Dye applies to the handle pieces on either side of the blade. Their pale yellow default color (slightly lighter than that produced by yellow dye) is very close to the color of the blade and can be difficult to see. The colored area is about half the length of the entire dagger. The jewel color is unaffected by dye.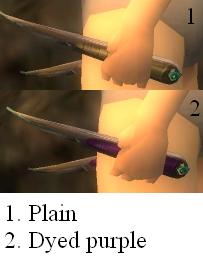 Notes
The salvage rate for gems is considered to be quite low so consider using a Measure for Measure Inscription to raise your chances.
It is possible to get more than one gem from a single salvage.
Ad blocker interference detected!
Wikia is a free-to-use site that makes money from advertising. We have a modified experience for viewers using ad blockers

Wikia is not accessible if you've made further modifications. Remove the custom ad blocker rule(s) and the page will load as expected.