Jessie Llam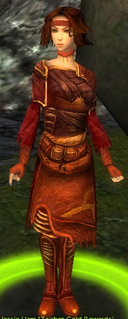 Classification
General
She crafts items in exchange for Gold Zaishen Coins and 100 Gold.
Location
Dialogue
"Select an item from my list below, then click "Craft."
Collector Items
Jessie Llam
Location: Great Temple of Balthazar
Collecting: Gold Zaishen Coins
Item
Gold Zaishen Coins

  !! Gold

Zaishen Key
1
100
Light Equipment Pack
1
100
Large Equipment Pack
5
100
Heavy Equipment Pack
15
100
Elite Assassin Tome
1
100
Elite Mesmer Tome
1
100
Elite Elementalist Tome
1
100
Elite Warrior Tome
1
100
Elite Dervish Tome
1
100
Elite Paragon Tome
1
100
Elite Ranger Tome
1
100
Elite Necromancer Tome
1
100
Elite Ritualist Tome
1
100
Elite Monk Tome
1
100
Everlasting Crate of Fireworks
50
100
Trivia
Ad blocker interference detected!
Wikia is a free-to-use site that makes money from advertising. We have a modified experience for viewers using ad blockers

Wikia is not accessible if you've made further modifications. Remove the custom ad blocker rule(s) and the page will load as expected.