Jekunda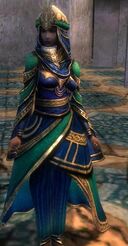 Classification
General
Jekunda is one of the attendants at the festival in Tihark Orchard.
Location
Dialogue
"Kurideh was such a kind old man. He would come to the village and play songs for children and teach them the history of Vabbi and our patron goddess, Lyssa. Madness grips him now. I barely recognize the man."
Ad blocker interference detected!
Wikia is a free-to-use site that makes money from advertising. We have a modified experience for viewers using ad blockers

Wikia is not accessible if you've made further modifications. Remove the custom ad blocker rule(s) and the page will load as expected.