Jei Zohn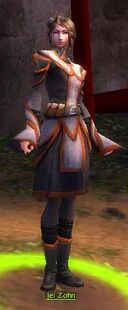 Classification
General
Jei Zohn is an NPC for the Canthan New Year event. She is involved in the quest Hopeless Romantic.
Quests Involved In
Location
Dialogue
"If your personality was as strong as your odor, then I might feel something more for you than utter revulsion!"
Ad blocker interference detected!
Wikia is a free-to-use site that makes money from advertising. We have a modified experience for viewers using ad blockers

Wikia is not accessible if you've made further modifications. Remove the custom ad blocker rule(s) and the page will load as expected.