Jefri Whylir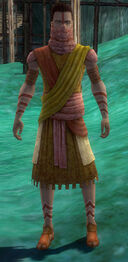 Classification
Dialogue
"Some who venture deep into the Jade Sea never return. Those we find have devolved into little more than mindless beasts we call Outcasts. Driven mad by some unknown force, the darkness has overtaken them. While I am too old to continue fighting, it is our duty to fight these madmen. Bring me 5 Bone Charms in exchange for:"
Collector Items
Jefri Whylir
Location: The Aurios Mines
Collecting: 5 Bone Charms
Ad blocker interference detected!
Wikia is a free-to-use site that makes money from advertising. We have a modified experience for viewers using ad blockers

Wikia is not accessible if you've made further modifications. Remove the custom ad blocker rule(s) and the page will load as expected.