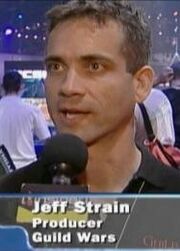 Jeff Strain was a co-founder, and a leading programmer of ArenaNet.
Previously, he has been working for Blizzard Entertainment, and had a leading role in the development of games like World of Warcraft, Warcraft III, StarCraft, and Diablo.
He left his position at ArenaNet in 2008 and starter working in NCsoft West. In August 11, 2009 he left NCsoft West as well and began working on a MMO zombie game for consoles with his new company Undead Labs.
Ad blocker interference detected!
Wikia is a free-to-use site that makes money from advertising. We have a modified experience for viewers using ad blockers

Wikia is not accessible if you've made further modifications. Remove the custom ad blocker rule(s) and the page will load as expected.