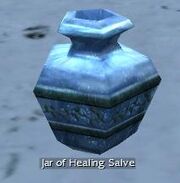 Description
A "jar" that when dropped heals any party members in the area for 300. There are four at Egil's Perch in GW:EN. Once dropped they disappear and cannot be used again.
Note that the Jar of Healing Salve is a "Bundle" item (i.e. an object that does not go into the inventory, but has to be carried by hands).
Location
Notes
It seems to have the same AoE as Heal Area.
Healer's Boon affects the healing this item provides when dropped.
See also
Ad blocker interference detected!
Wikia is a free-to-use site that makes money from advertising. We have a modified experience for viewers using ad blockers

Wikia is not accessible if you've made further modifications. Remove the custom ad blocker rule(s) and the page will load as expected.