Jahn Pitz
Classification
Dialogue
"Have you heard what they say about mirrors made from moon shell? Anyone who looks daily into such a mirror will live a long, fulfilling life. One would make a perfect gift for my betrothed, but I've been unable to find any shells. If you bring me back 5 Black Pearls, I'll give you this in return:"
Collector Items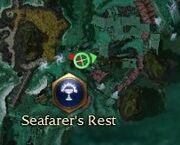 Jahn Pitz
Location: Rhea's Crater right outside the northern exit of Seafarer's Rest
Collecting: 5 Black Pearls
Notes
Jahn Pitz's dialogue mentions Moon Shells. By reading it, one would think he collects them just like Kristo Trilios. Perhaps the change to Black Pearls was done at the last second.
Ad blocker interference detected!
Wikia is a free-to-use site that makes money from advertising. We have a modified experience for viewers using ad blockers

Wikia is not accessible if you've made further modifications. Remove the custom ad blocker rule(s) and the page will load as expected.