Jahmeh Bahkmasitur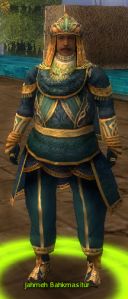 Classification
General
Jahmeh Bahkmasitur is one of the Vabbians found wandering the Forum Highlands.
Location
Dialogue
"Prices are up, costs are down, and demand is high. At this rate, we'll be shipping in materials from the far edges of the world just to keep up!"
Quotes
"Congratulate yourselves, everyone! For the first time, you've done it again!" [sic]
"My daughter just brought back a shipment of silks from Cantha... gorgeous. Give me a day, and they'll be in my shop. Another day and they'll be gone!"
Ad blocker interference detected!
Wikia is a free-to-use site that makes money from advertising. We have a modified experience for viewers using ad blockers

Wikia is not accessible if you've made further modifications. Remove the custom ad blocker rule(s) and the page will load as expected.