Iyemab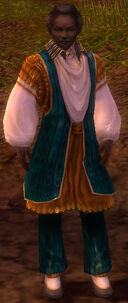 Classification
Map(s)

(click to enlarge)
Dialogue
"Blasted little bugs. How I hate them! Terrible, itchy, crawling, biting... horrible! You there! Do you hate bugs as much as I do? I thought you might. Bring me 3 Insect Appendages and I will gift you with a mighty reward:"
Collector Items
Iyemab
Location: Issnur Isles, almost due south on the first knoll from Beknur Harbor
Collecting: 3 Insect Appendages
Ad blocker interference detected!
Wikia is a free-to-use site that makes money from advertising. We have a modified experience for viewers using ad blockers

Wikia is not accessible if you've made further modifications. Remove the custom ad blocker rule(s) and the page will load as expected.