Isle of Wurms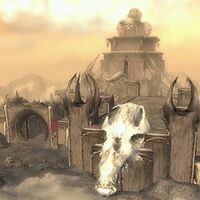 Basic Info
Neighbor(s)
None
Map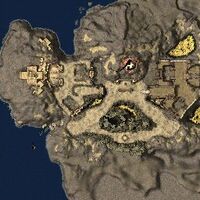 (click to enlarge)
The Isle of Wurms is a Guild Hall, first introduced in Guild Wars Nightfall.
Layout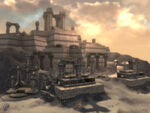 The bases are at the east and west ends of the map. Between them is a large, open area containing the flag stand. The flag stand itself is on a small rise at the north center. Both front gates open into this area. There is another small open area in front of either rear gate, with a path connecting them on the southern edge of the map. In the middle of the path is the health shrine.
Features
NPCs
Both teams start with several NPCs.
Strategy
This guild hall is primarily used for GvG builds that have ganks. The other key point on the field besides the flag stand is the health shrine. That 120 bonus is extremely helpful in both fighting the effects of any death penalty and making it easier to win overall.
This map can be bad for spike builds if the opposing team captures the health shrine, making it difficult to spike down players.
Notes
This guild hall was once also referred to as Isle of the Wurm by the Canthan Ambassador, but this has been fixed.
Ad blocker interference detected!
Wikia is a free-to-use site that makes money from advertising. We have a modified experience for viewers using ad blockers

Wikia is not accessible if you've made further modifications. Remove the custom ad blocker rule(s) and the page will load as expected.