Inner Council Member Argyle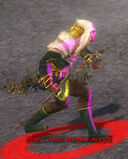 Classification
Description
One of the three inner council members left after the demise of Confessor Dorian. The three of them are the target of the quest Final Blow.
Location
Skills used
Trivia
Argyle is a type of clothing pattern.
Ad blocker interference detected!
Wikia is a free-to-use site that makes money from advertising. We have a modified experience for viewers using ad blockers

Wikia is not accessible if you've made further modifications. Remove the custom ad blocker rule(s) and the page will load as expected.