Infatuated Follower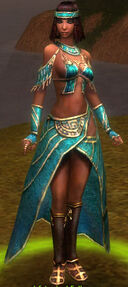 Classification
General
Quests involved in
Location
Dialogue
"Isn't Rundlin a dream? I'd follow him into the Desolation."
"I just love playing games with Rundlin!"
"I've been following Rundlin since the beginning. I'm his favorite!"
Notes
This quest is only available to your characters as a result of entering the code contained in the November issue of PCGamer Magazine. This quest is required in order to receive the limited edition minipet.