Indestructible Golem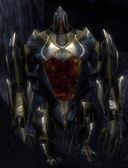 Classification
Description
The Indestructible Golem is found near the end of The Elusive Golemancer mission. It is invincible to all regular damage, and must be destroyed using the Flux Matrix, which deals 1,337 damage to it per hit. Life stealing skills affect it as normal.
Location
Skills
Notes
Trivia
Ad blocker interference detected!
Wikia is a free-to-use site that makes money from advertising. We have a modified experience for viewers using ad blockers

Wikia is not accessible if you've made further modifications. Remove the custom ad blocker rule(s) and the page will load as expected.