Ad blocker interference detected!
Wikia is a free-to-use site that makes money from advertising. We have a modified experience for viewers using ad blockers

Wikia is not accessible if you've made further modifications. Remove the custom ad blocker rule(s) and the page will load as expected.
Imperial Quartermaster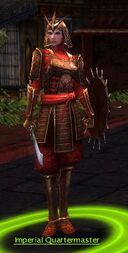 Classification
General
Imperial Quartermasters are collectors offering items in exchange for various amounts of Imperial Commendations.
Location
Dialogue
All the quartermasters use the same dialogue:
"You may on occasion be rewarded for your service to the citizens of Cantha with an imperial commendation. [sic] If you bring me X Imperial Commendations as proof of your good deeds, I will give you this in return:"
Collector Items
Imperial Quartermaster
Location: Kaineng Center
Collecting: 1 Imperial Commendation
Imperial Quartermaster
Location: Kaineng Center
Collecting: 3 Imperial Commendations
Imperial Quartermaster
Location: Kaineng Center
Collecting: 5 Imperial Commendations