Ignis Cruor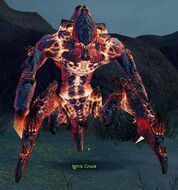 Classification
Map(s)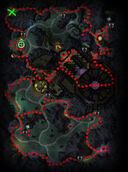 Domain of Secrets
Description
Ignis Cruor is a Titan boss that Scorch Emberspire wishes to reach during the quest A Flickering Flame to ask him why he languishes in the Realm of Torment despite serving the Titans dutifully during The Searing.
Location
Skills used
Notes
As with all titan bosses, this one does not break down into lesser titans.
At first he is green/non-hostile, but turns hostile when approached.
Trivia
Ignis means 'fire,' cruor means 'blood, murder, slaughter, gore'. The translated name is "Fiery Blood".
Ad blocker interference detected!
Wikia is a free-to-use site that makes money from advertising. We have a modified experience for viewers using ad blockers

Wikia is not accessible if you've made further modifications. Remove the custom ad blocker rule(s) and the page will load as expected.