Ice Wastes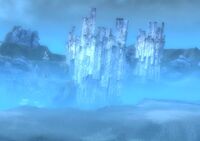 Basic Info
Neighbor(s)
None
Description
The Ice Wastes is a vast area of glaciers and ice in the northeastern region of the Underworld. This is the realm of the Reaper of the Ice Wastes and it is overrun with Smite Crawlers and Coldfire Nights.
The Ice Wastes have only one entrance/exit in the southwest that leads to the Labyrinth.
The quest Servants of Grenth takes place in the Ice Wastes.
Monsters
Ad blocker interference detected!
Wikia is a free-to-use site that makes money from advertising. We have a modified experience for viewers using ad blockers

Wikia is not accessible if you've made further modifications. Remove the custom ad blocker rule(s) and the page will load as expected.