House Ranger Rionel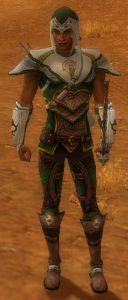 Classification
General
House Rangers are part of the personal guard serving the noble family of Justiciar Thommis of the White Mantle. The Justiciar is on a vengeance rampage against the Shining Blade rebels in the Maguuma Jungle.
Quests Involved In
Location
Dialogue
"Hello there! Time is short!
What can I help you with?"
Ad blocker interference detected!
Wikia is a free-to-use site that makes money from advertising. We have a modified experience for viewers using ad blockers

Wikia is not accessible if you've made further modifications. Remove the custom ad blocker rule(s) and the page will load as expected.