House Ranger Lanalt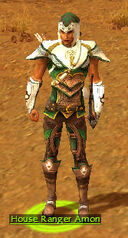 Classification
General
House Rangers are part of the personal guard serving the noble family of Justiciar Thommis of the White Mantle. The Justiciar is on a vengeance rampage against the Shining Blade rebels in the Maguuma Jungle.
Quests Involved In
Location
Dialogue
"House Ranger Lanalt at your service.
M'lord sent you?"
Ad blocker interference detected!
Wikia is a free-to-use site that makes money from advertising. We have a modified experience for viewers using ad blockers

Wikia is not accessible if you've made further modifications. Remove the custom ad blocker rule(s) and the page will load as expected.