Hoanjo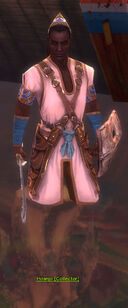 Classification
Dialogue
"My little sister is the greatest. Did you see the weapon she crafted for me out of skale teeth? I'd like to give her a gift, too. Her armor is kind of bland, and I think some Skale Claw would make it eye-catching. Can you get 3 Skale Claws for me, so I can make her a new piece of armor? I'll pay you with:"
Collector Items
Hoanjo
Location: Issnur Isles, east from Beknur Harbor, just a bit east from Lohfihau
Collecting: 3 Skale Claws
Notes
From his dialogue, it can be concluded that his sister is Dzajo, also a collector, but in the Astralarium.
Ad blocker interference detected!
Wikia is a free-to-use site that makes money from advertising. We have a modified experience for viewers using ad blockers

Wikia is not accessible if you've made further modifications. Remove the custom ad blocker rule(s) and the page will load as expected.