High Priest Alkar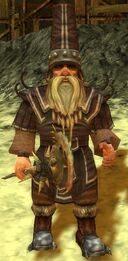 Classification
General
High Priest Alkar is a dwarven priest found in Grenth's Footprint, Battledepths, and The Central Transfer Chamber.
Quests Given
Quests Involved In
Location
Skills used
Notes
Alkar will heal mobs hostile to the player's party when they are low on health.
Oddly, Alkar is not armed with a staff. He uses some sort of ranged projectile that causes a "bludgeoning" sound upon impact, much the same as a hammer would.
Trivia
Alkar is likely a reference to the character Alkor in Diablo 2, who is also an alchemist.
Ad blocker interference detected!
Wikia is a free-to-use site that makes money from advertising. We have a modified experience for viewers using ad blockers

Wikia is not accessible if you've made further modifications. Remove the custom ad blocker rule(s) and the page will load as expected.