Hervahn the Vexing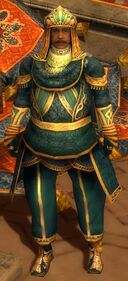 Classification
General
Hervahn the Vexing is an old friend of Prince Ahmtur the Mighty now given to training new actors.
Quests Involved In
Location
Dialogue
"Bah! Theatre today! It's all epics and popular entertainment! Back in my day we took on tough issues, but Prince Bokka would rather have his safe, commercially viable plays. Bah!"
Ad blocker interference detected!
Wikia is a free-to-use site that makes money from advertising. We have a modified experience for viewers using ad blockers

Wikia is not accessible if you've made further modifications. Remove the custom ad blocker rule(s) and the page will load as expected.