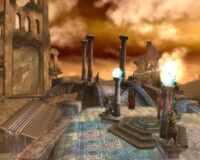 Basic Info
Neighbor(s)
None
Description
The Heroes' Crypt is one of the maps in Random Arena and Codex Arena, and can be selected in the Zaishen Challenge.
This map features one Obelisk, which can be captured using flags located at the teams' bases. Murals of the Five Gods can be found throughout the arena.
Ad blocker interference detected!
Wikia is a free-to-use site that makes money from advertising. We have a modified experience for viewers using ad blockers

Wikia is not accessible if you've made further modifications. Remove the custom ad blocker rule(s) and the page will load as expected.