Helenah

Classification
Dialogue
"Oh, hi! I was just thinking about bears. Godless killing machines without a soul. If there's any animal that hates freedom, it's the bear. From this point on, I'm putting bears on notice. But enough about my irrational phobias... I've got collecting to do. My friend Nikun is throwing a swank party... you know... a shindig. Ripper, even. He's collecting masks for the affair, and it's my job to provide another party favor. Think you could help me out? You know you want to. Listen, go out and kill a bunch of stuff. You look like the killing type. Bring me 5 Kournan Pendants and I'll reward your blood, sweat, and tears with:"
Collector Items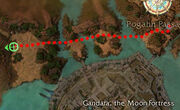 Helenah
Location: Gandara, the Moon Fortress (northwestern corner)
Collecting: 5 Kournan Pendants
Trivia
The first part of Helenah's dialogue is a paraphrasing of the various anti-bear rants on The Colbert Report.
Ad blocker interference detected!
Wikia is a free-to-use site that makes money from advertising. We have a modified experience for viewers using ad blockers

Wikia is not accessible if you've made further modifications. Remove the custom ad blocker rule(s) and the page will load as expected.