Healer Silja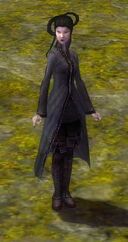 Classification
Dialogue
"Count zu Heltzer has ordered us to join in the fight against Shiro, no matter our profession. I've been charged with developing a medicine to aid the suffering in Kaineng City. Some forest plants possess extremely potent properties that can be used to cure diseases. I believe that dragon root might be useful in curing or at least lessening the pain associated with this plague, but I haven't the time to gather more of it. You would be doing our people, and those affected by this horrible sickness, a great service if you would bring me 5 Dragon Roots. In return, I can offer you this:"
Collector Items
Healer Silja
Location: Vasburg Armory
Collecting: 5 Dragon Roots
Ad blocker interference detected!
Wikia is a free-to-use site that makes money from advertising. We have a modified experience for viewers using ad blockers

Wikia is not accessible if you've made further modifications. Remove the custom ad blocker rule(s) and the page will load as expected.