Ad blocker interference detected!
Wikia is a free-to-use site that makes money from advertising. We have a modified experience for viewers using ad blockers

Wikia is not accessible if you've made further modifications. Remove the custom ad blocker rule(s) and the page will load as expected.
Headmaster Zhan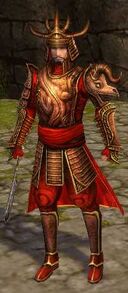 Classification
General
Headmaster Zhan was a general in the Tengu Wars. When he returned with Talon Silverwing at his side, many shunned him, but others saw it as a testament of his character. He serves the Shing Jea Monastery well in his role as one of its headmasters. As a profession trainer, he teaches Warrior students all they need to know to prepare them for the world of Cantha.
Quests Given
Quests Involved In
Location
Dialogue
If your character is a Warrior:
"Greetings, young Warrior. I am Headmaster Zhan. In my younger years I was a general in the Canthan army, though my days on the field of battle are long past. I will oversee your training as you become a skilled Warrior like myself."
If your character is not a Warrior:
"Greetings, young one. I am Headmaster Zhan. I train only students of the Warrior profession, which I see you are not. You will need to speak to your own headmaster."