Hatuk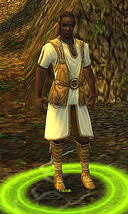 Classification
General
Hatuk is a villager tasked with slaying a plant monster that's been plaguing his village as part of his rite of passage.
Quests Given
Location
Dialogue
"You know, I never wanted to be a hunter. I wanted to be a lumberjack!"
Trivia
The dialogue is a reference to Monty Python's Lumberjack Song
It is possible that his name is a reference to Ringo Starr's character's name in the movie "Caveman"
Ad blocker interference detected!
Wikia is a free-to-use site that makes money from advertising. We have a modified experience for viewers using ad blockers

Wikia is not accessible if you've made further modifications. Remove the custom ad blocker rule(s) and the page will load as expected.