Hatuk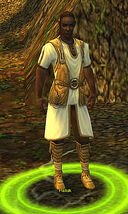 Classification
Hatuk is a villager tasked with slaying a plant monster that's been plaguing his village as part of his rite of passage.
Quests Given
Edit
"You know, I never wanted to be a hunter. I wanted to be a lumberjack!"
The dialogue is a reference to Monty Python's Lumberjack Song
It is possible that his name is a reference to Ringo Starr's character's name in the movie "Caveman"