Harpy Mother (Warrior)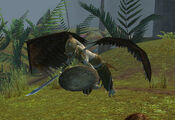 Classification
Description
One of 3 types of Harpy that defend their offspring. A random group of these harpies will spawn during the Skree Hatchling Season quest.
Location
Cliffs of Dohjok (Only during Skree Hatchling Season)
Skills used
Items dropped
Ad blocker interference detected!
Wikia is a free-to-use site that makes money from advertising. We have a modified experience for viewers using ad blockers

Wikia is not accessible if you've made further modifications. Remove the custom ad blocker rule(s) and the page will load as expected.