Hamar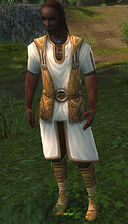 Classification
General
Hamar is a supervisor of the quarry diggers on Istan.
Quests Involved In
Location
Dialogue
In Cliffs of Dohjok:
"Finally some help! Bohanna ordered work to stop as soon as we lost our first man. We've done our best to rid the quarry of these pests, but once a skree harpy queen lands and claims an area it's near impossible to get her to leave! If you can help us get rid of that queen, we can free up some men for Kormir. Let me know when you're ready, and we'll back you up!"
Ad blocker interference detected!
Wikia is a free-to-use site that makes money from advertising. We have a modified experience for viewers using ad blockers

Wikia is not accessible if you've made further modifications. Remove the custom ad blocker rule(s) and the page will load as expected.