Haibir
Classification
Dialogue
"Corsairs are bad. Bad, bad, bad! They steal gold from people. "Hey! That's our gold!" I tell them. I promised the nice people in Ronjok. They need it. Can you help me? I need 5 Gold Doubloons, because I promised. Habir make promise. Habir keep promise. Help me keep promise, and I'll give you something sparkly:"
Collector Items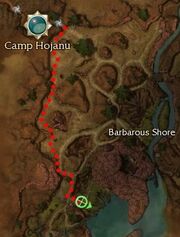 Haibir
Location: Barbarous Shore, to the southwest
Collecting: 5 Gold Doubloons
Notes
The name used in the dialogue is different from the actual collector's name. Likely a typo.
Ad blocker interference detected!
Wikia is a free-to-use site that makes money from advertising. We have a modified experience for viewers using ad blockers

Wikia is not accessible if you've made further modifications. Remove the custom ad blocker rule(s) and the page will load as expected.