Hahan, Faithful Protector
Classification
Description
Hahan, Faithful Protector is a Heket Monk boss found in Garden of Seborhin. It has ~1280 hp.
Location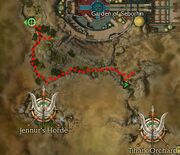 Skills used
Items dropped
Note
After accepting the primary quest Attack at the Kodash, Garden of Seborhin transforms into Nightfallen Garden. Upon completion of the game, this area is reverted back to its normal form. Hahan, Faithful Protector does not spawn in the Nightfallen Garden.
Ad blocker interference detected!
Wikia is a free-to-use site that makes money from advertising. We have a modified experience for viewers using ad blockers

Wikia is not accessible if you've made further modifications. Remove the custom ad blocker rule(s) and the page will load as expected.