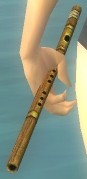 A Mesmer focus given to the player by Gwen as the reward for the quest, Then and Now, Here and There.
Focus stats
Notes
The flute does not appear in the quest log as a reward and has an almost unique skin, shared only by the Flute acquired in Pre-Searing.
See also:
Ad blocker interference detected!
Wikia is a free-to-use site that makes money from advertising. We have a modified experience for viewers using ad blockers

Wikia is not accessible if you've made further modifications. Remove the custom ad blocker rule(s) and the page will load as expected.